I recently read a story by Robert Brunell called "The Journey"
posted by The Redeemed Gardener
. It is quite long, for a blog post, but I knew that I was supposed to read it, so I did. (Although I still haven't made it through the whole thing yet--I plan to finish it over the next couple of days). One quote has stuck with me since reading it yesterday: [I]t is possible to go through all the surface motions of faith in God while one's real worship, the thing which obsesses the mind day and night, is idolatry." Powerful statement. Because I know it's true.
Have I been worshiping God with real worship??
Is He the main object of my affections?? Because so often, especially lately, the answer is no.
Why do you spend your money on that which is not bread, and your labor for that which does not satisfy? Listen diligently to Me, and eat what is good, and delight yourselves in rich food.
--Isaiah 55:2
I have known real worship.
I have tasted and seen that the Lord is good. I have spent time in His Presence. He has filled my cup many times. And yet still, lately I have chosen to seek that which is not bread, and to spend my time on things that do not satisfy. I have not carved out that special time to be with Jesus, My Savior, My Redeemer, My Friend.
I have neglected to stay connected to the vine.
"I am the vine; you are the branches. Whoever abides in me and I in him, he bears much fruit, for apart from Me you can do nothing." --John 15:5
(emphasis added)
Apart. From. Him. I. Can. Do. Nothing.
Nothing! No wonder my life falls apart when I don't stay connected. When I don't come to Christ on a regular basis, falling on my knees in surrender before Him, there are a few things that generally happen. First, I start to think I'm somebody. Pride starts creeping in, and I think I just may have a handle on things.
If I continue to stay disconnected, after a time I look around and realize that my cup is empty.
My "handle" I think I have on life starts to unravel, and pride swiftly abandons me only to be followed by some serious insecurity and doubt. The Enemy sees an opening and begins to whisper in my ear:
"Is God sure you're the best person to be in charge of children's ministries?? Surely so and so could do a much better job..."
"Do you really think that you can minister to people, that they need you to? Your friends, neighbors, and church family? They are doing fine. Look at you. You can't handle anything right now, let alone other people's problems."
After the insecurities, comes the feeling of emptiness and the beginnings of mild depression. Because I know that when my cup is empty, those statements of insecurity are partly true. Because when I am empty, I have nothing to give, and if I'm not abiding in Christ, I really can't do those things. Because I was never meant to give out of an empty cup. I was meant to give out of the overflow. (At times when I have let myself get empty enough that I start to show signs of depression, I usually ask my husband to help pray me out of it, which really helps me get back on track, after which I immediately spend time in the Presence of God. If you are experiencing some of what I'm describing, ask someone close to you to pray for you. You can also leave me a comment or send me a private message -- via the "Contact Me" button on the top right hand side of this blog -- and I would love to pray for you myself. In addition to having someone pray for you, spend time on your knees. ASK Him to fill you! He is the only thing that satisfies, and He will not leave you empty if you ASK for a full, overflowing cup.)
Another quote from the story that has impacted me:
"[I]n the Wilderness of Prayer,"
(part of the man's journey),
"prayer becomes one's way of life--the source of one's whole existence. The time has come for YOU to be lost in a life of prayer."
Again, powerful.
1 Thessalonians says to "pray without ceasing."
Do I pray without ceasing? No. Not lately.
How does one even do that?
How do we stay connected to the vine?
By abiding in Him.
God doesn't want just part of us. He wants all of us. He wants us to live our lives through Him, and vice versa.
I remember one time when God was trying to teach me something, and I got frustrated. I don't remember what it was that He was trying to teach me, or what I was going through exactly at the time, but I just remember that whatever it was, I was really struggling with it.
In a moment of exasperation, I threw up my hands and cried, "What do You want from me??"
The question, on my part, wasn't meant to be answered,
really
. Surely He could see, through my "question," that whatever it was He was requiring, it was too much! Right?
But He did reply. Softly, but powerfully: "Everything."
He isn't looking for my mornings, or my evenings, or a general sense or declaration of belief in Him. He wants ME. He wants me to ABIDE in Him. Every day, every night. All day, all night. That is so easy to forget in this culture! TV, internet, facebook, pinterest, ipods, cell phones. Clean water. Food in abundance. Not just food in abundance, but
fast food.
Electricity, vehicles, microwaves, refrigerators, the list goes on and on.
We have it all. And yet, without Christ, we have nothing.
Father, forgive us for our complacency! For seeking that which does not satisfy, for searching for water that won't fill us! God, only YOU satisfy! Everything else in life will abandon us and leave us empty and dry. Fill us up, LORD! Fill us up, like only You can. Forgive us for allowing ourselves to be disconnected from you and for not intentionally seeking Your face every day. Break us down, God! Remove from us all of our "surface motions" of worship, and replace them with true worship! Forgive us for our mindless obsessions! We thank You, God, for your faithfulness. That even when we are not faithful, YOU are faithful. Forgive us for forsaking You, and lead us back to Your arms.
We give You Your rightful place in our lives: the center, the top, the bottom, the right side, the left, and everywhere in between. May we live, move, and have our being in You!
I pray for everyone reading this right now, that they would experience Your Presence in a real way, maybe in a way that they have never experienced before. I ask that You fill them up, LORD! I ask that they would know You for who You are, and not just who they've imagined or believe You to be. I ask that they would know who they are, as You've made them, and not as the world sees them or the Enemy has led them to believe. Touch them, God, that they might know Your heart, and that theirs might beat as one with Yours. Thank You, God!
I hope that this post has blessed you today. The last thing I will leave you with is a quote from a Lifehouse worship song, "Everything:"
This post is featured on these great linky parties: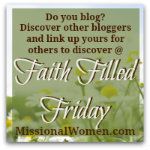 Faith-Filled Friday